He's making a list and he's checking it twice!
It wont be long now before the man in red returns for another festive celebration. However, one of the bet things about Christmas is the build up.
But, with so much to see and do, how do you decide?
Well, we've tried to make it a little bit easier for you by putting together a handy county guide to some of our favourites taking place over the festive season, including some of the most popular Christmas Pantos.
It's beginning to fee a lot like Christmas...oh, yes it is!
Aladdin
Waterfront Hall | Until December 31st, 2022
Will the Genie of the lamp grant Aladdin three wishes and save him from the clutches of the evil Abanazar? Will Aladdin and Princess Jasmine end up living happily ever after? Aladdin is brought to you by a fabulous cast, laugh-out-loud comedy, colourful scenery, beautiful costumes and plenty of boos and hisses for all the family to enjoy.
Movies at the Museum
Ulster Musuem | 26th November - 17th December, 2022
Catch all your favourite festive films this Christmas in our Lecture Theatre, playing every weekend in the run up to the most wonderful time of the year including Arthur Christmas, Elf, Home Alone, It's A Wonderful Life and The Polar Express.
Mission Santa
Armagh Observatory and Planetarium | Selected Dates 26th November – 23rd December, 2022
It's a real Code Red! Join the E.L.F. crew on Mission Santa and blast off on a Christmas adventure. Tickets include admission to to "The Alien Who stole Christmas" full-dome show in the star dome theatre. Help save Santa inside mission control during a theatrical show, along with a visit to see Santa!
Live Manger at Tannaghmore Animal Farm
Tannaghmore Animal Farm, Craigavon City Park | Sunday 4th December until Sunday 1st January. Open 10am – 4pm each day. Free Admission.;
This Christmas, check out the stunning Live Manger at Tannaghmore Animal Farm – a truly magical experience for all the family to enjoy! You will find Jesus, Mary, Joseph and the three Kings in a remake of that world famous stable complete with donkey, sheep, cows and other animals. Featuring Galway sheep, Irish Moiled cows and pygmy goats, you will find this heart-warming nativity display in a converted outhouse on the farm. A beautiful event showcasing the true meaning of Christmas!
Christmas Wonderland at Delta Sensory Gardens
Delta Sensory Gardens | December 3th, 4th, 9th, 10th, 11th, 15th, 16th, 17th, 18th, 19th & 20th, 2022
The festivities return with the magnificent gardens illuminated again in a spectacular seasonal display.
Santa Train
Rathwood | 26th November - 24rd December, 2022
Santa Visits the Big Top 2022!
You've been invited onboard the Rathwood Express train for a magical journey through Rathwood's festive forest. Staying safe together is all part of the experience as you make your way to the Big Top to see Santa, Mrs Claus & their elves perform a phenomenal show.
Kingscourt Entreprise Centre | Open Daily
Back open following a devastating fire in October, The Playcentre is popular locally and beyond and is the perfect place to relax over Christmas while the little ones burn some energy on the huge play frame.
Christmas Lights Vehicle Parade
Cavan Town | 17:00, December 18th, 2022
In 2022, the organisers are hoping to shine some light during these dark times and in the process raise funds for many needing causes. Having raised over €200,000 since 2012, this year they are supporting Kevin Bell Repatriation Trust, Vince McGee and the Cuan Cancer Support Centre Cavan. Please go along and support this fantastic annual charity event.
Sleeping Beauty presented by Pantaloons
Glór Irish Music Centre | Friday 23rd December, 2022 15:00, Tuesday 27th, 15:00 & 19:30 and from Wednesday 28th December to Sunday 1st January, 2022, 15:00.
Once upon a time in a land far, far away a beautiful princess is born but the wicked fairy places a terrible curse on the new princess. Only true love's kiss will break the spell! Join Pantaloons and find out how the story ends in another spectacular pantomime, packed with smash-hit songs, stunning sets, fabulous dance routines, lots of laughs and plenty of seasonal sparkle.
Christmas at the Farm
Moher Hill Open Farm | December 10th, 11th, 17th & 18th, 2022
Children will meet Santa's Elves and play in the indoor bouncing castle, ball pool and under 5's areas, while adults will keep themselves refreshed with complimentary tea, coffee or mulled wine and a festive mince pie. Each child will get food to feed all the animals, who are snuggled up in their animal barn. Families will have a chance to sit in and take a picture in Santa's Sleigh and feed and pet Santa's deer and, of course, rceive a gift and have time to chat with Santa.
Glow Cork Christmas Celebration
Cork | November 25th, 2022 - 8th January 2023
The iconic Ferris Wheel and Carousel returns to Cork city this Christmas with the much-loved and iconic 32m Panoramic Wheel bringing some fun and festive cheer to the city. Other event and activities include Cork Lights Up turning the streets of Cork into a festive wonderland with over 7.4km of lights, Santa's Magical Market, the GoldieFish Festive Market in Emmet Place and lots more.
Cinderella | The Everyman
Everyman Theatre | until January 15th 2023
What classic tale do you think of when you hear stepmother, ugly stepsisters, a lost shoe and a handsome prince? This year's Panto Cinderella is the wonderful tale of a girl with a dream, a spell that's broken at midnight and a fairy godmother, all with a modern Panto twist! It will be like a wonderful dream come true – so don't delay, the ball can't wait, you're invited to get your tickets and be on your way!
Sleeping Beauty | Cork Opera House
Cork Opera House | until January 22nd, 2023
Once upon a time in a pantoland far, far away, the beautiful Princess Beauty was born. When the time came for her to be christened, an uninvited guest – the evil Maleficent, cursed the princess so that on her 18th birthday she would prick her finger and fall into a deep sleep for 100 years. What could possibly undo such a dastardly curse?
Packed with amazing colour, fantastic costumes, live music, breath-taking dance and tonnes of belly laughs - this production will be a magical musical rollercoaster ride for all the family to enjoy this Christmas.
Alpine Skating Trail | Cork
Fota Wildlife Park | Until January 22nd, 2023
The Alpine Skating Trail is brought to you by the Operators of Cork on Ice (running since 2007. Skate through the woodlands of Fota for a brand new skating experience; the first of its kind in Ireland.
The Polar Expres
Model Railway Village | Until December 23rd, 2022
Hop aboard the Choo Choo Road Train where families will have to help out as the train is powered by Christmas songs. Mrs Claus and the elves will be sharing in the fun this year. Children will enjoy a craft activity, see the action in the workshop, meet Dasher the talking reindeer, visit Santa in an authentic railway carriage and lots of other surprises along the way!
Sleeping Beauty
Waterside Theatre | 9th - 20th December, 2022
The Grove Theatre Company return with their traditional style panto combining a blend of song, dance and humour, featuring a talented local cast of all ages. Family fun and a great night out.
Wild Arctic Experience
Wild Ireland | until December 23rd, 2022
Experience Wild Ireland this Christmas with a special family event. Visit the incredible sanctuary and all the animals including wolves, bears and some new festive visitors. Enjoy the lights as you walk around in your own family pod before visiting Santa in his magical grotto in the woods.
Winter Wonderland
Castle Adventure Open Farm | until December 23rd, 2022
From the elf village and magic doors, to presents and magic reindeer food, immerse yourself in a seasonal extravaganza; take lots of fantastic photos and come away laden with goodies and filled with Christmas cheer. On your journey you will explore the fabulous world of the Elves and meet Mrs Claus before heading to Santa's lodge.
Santa Express at Oakfield House
Oakfield House | until December 23rd, 2022
The Santa Express in Oakfield Park is the most famous festive event in the northwest that everyone will love, both young and old. A magical Christmas Experience on a real Santa Train (not a tractor!) for all the family. Visit Father Christmas, join the elf family, play games, catch a puppet show with food, visit Mrs Claus' cabin and much more!
YourDaysOut is a SaaS platfrom that lets you publish and promote your activities and events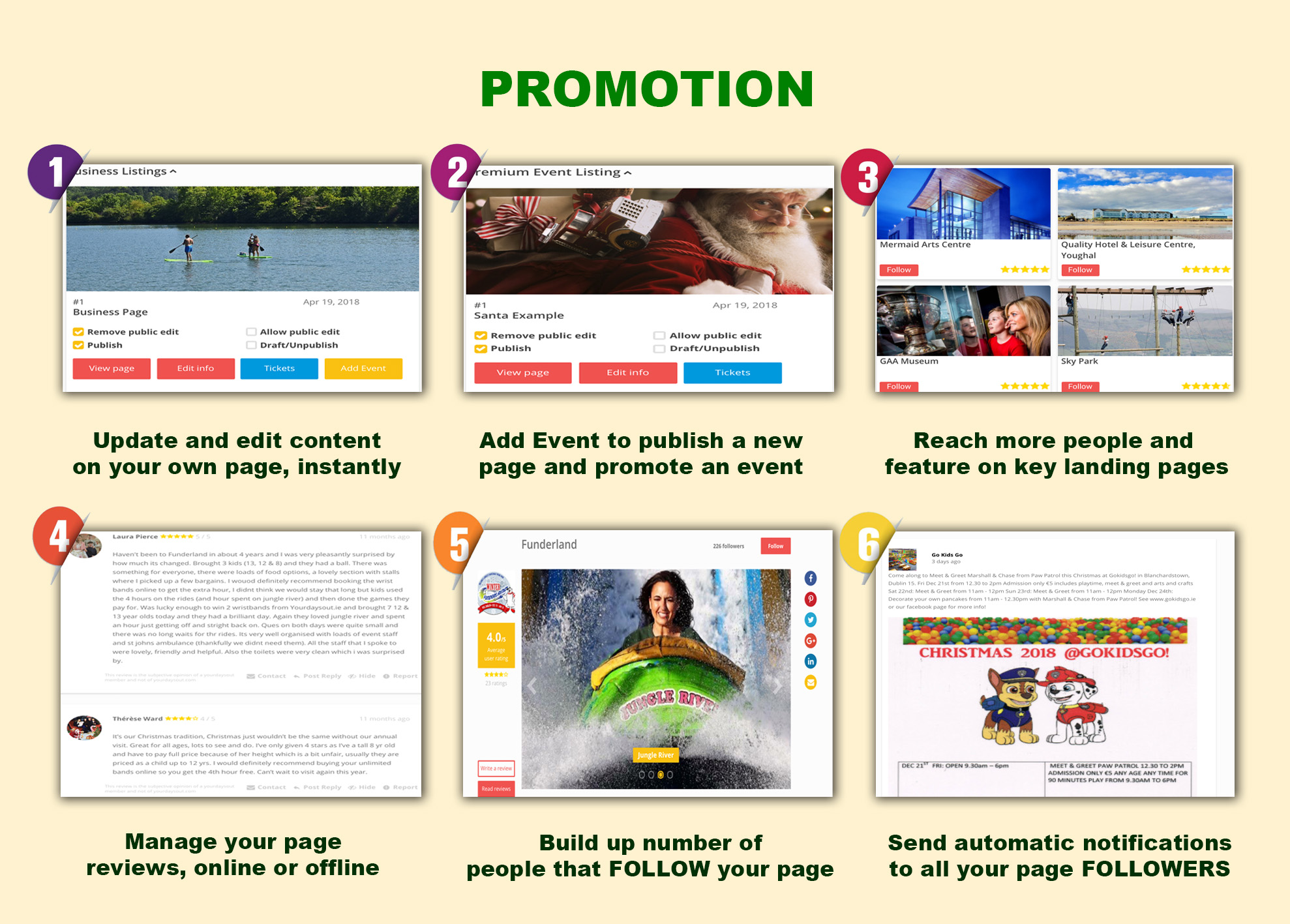 Lapland Express
Downpatrick & County Down Railway | weekends until December 18th, 2022
Climb aboard the Lapland Express steam train for a fun Christmas experience with Santa, Mrs Claus and their elves
Santa Saunter
Solitude Park, Banbridge | December 17th, 2023
Santa Claus himself will be taking time out of his busy schedule along with some other Christmas Characters to join the saunter to help raise money for the Lord Mayor's chosen charities, B Positive and Southern Area Hospice NI. Enjoy the sensory stations along the route. At the end of the saunter, complementary hot drinks will be provided and children will receive a balloon and chocolate lolly.
Airfield Estate Christmas Experience
Airfield Estate | until December 23rd, 2022
Enjoy a truly magical visit to The Christmas Experience 2022 at Airfield Estate, Dundrum. Follow the global adventures of Ida, Flick and Myrtle the turtle, as they retrace their great-aunt Kitty's footsteps, meeting Santa along the way!
Harry Potter Breakfast
Kidspace Rathcoole | December 18th, 10:30-12:30, 2022
Little Harry Potter fans are invited to visit Hogwarts as Kidspace Rathcoole celebrate Christmas with a fun activity in their amazing new Harry Potter themed room on Sunday 18th December. It is a two hour drop-off session that includes activity, playtime and lunch and gives bust parents the opportunity for some last minute shopping!
Christmas Craft Workshops
The Rediscovery Centre, Ballymum | December 10th, 2022
The Rediscovery Centre are hosting a fun hands-on Eco Christmas crafts workshop for kids, where you will be making fabulous Christmas decorations from waste materials. Crafts include creating Santa Claus figures using cardboard, to making plastic bottle penguins, fabric tree decorations and beautiful upcycled Christmas cards. Suitable for children aged 6 to 12 years.
Retro Christmas Drive In Movies
Leopardstown Racecourse | December 7th - 18th, 2022
Christmas is coming early to Leopardstown Racecourse with a Drive-In Movie theatre featuring Home Alone, Elf, A Wonderful Life and The Polar Express. Enjoy a special Christmas movie screening from the comfort of your car, where you can bring your PJs and pillow...and maybe even a duvet!
Helix Panto | Hansel & Gretal
The Helix | until January 15th, 2023
Join Hansel and Gretel as they journey through the magical pantosphere of intrigue and adventure. With panto favourites Buddy (Colin Hughes), Laurel (Aidan Mannion), the wickedly wonderful Paul Byrom, the multi talented Orla Jennings and the outrageous Dame Lola (Chris Corroon) joined by some new faces, The Helix Panto is back with a bang to ensure you laugh your troubles away.
Draiocht Panto | Sleeping Beauty
Dariocht | January 5th - 22nd, 2023
They're Back! Oh yes they are. The Coolmine Panto Group return to Draíocht in January 2023 with SLEEPING BEAUTY a pantomime written by Karl Harper. After missing out in January 2021 & 2022 due to Covid, they can't wait to see everyone back and promise a really great show. Oh yes they do!
Olympia Panto | Cinderella
Olympia Theatre | December 21st - January 8th, 2023
Join Olly, Polly and their dancing Cow in this hilarious classic tale of 'Jack and the Beanstalk'. With a laugh-a-minute script, dazzling dancers and all-star cast, Olly, Polly & The Beanstalk is bursting with magic and madness and is not to be missed! Delivering big laughs and even bigger surprises this GIGANTIC pantomime will most certainly be Fe-Fi-Fo-FUN for all the family this Christmas & will be the perfect Happily Ever After to 2022!
Gaiety Panto | The Jungle Book
Gaiety Theatre | until January 9th, 2023
Join in on a tropical adventure with Mowgli, the man-child, as he swings and sings his way through this jungle journey. Filled with Panto monkey-business and hiss-sterical shenanigans, we meet all your favourite jungle friends along the way, plus a few familiar animal crackers.
New Year Festival Dublin
Dublin | December 31st & January 1st, 2023
Ring in the New Year with WESTLIFE performing in the brand-new Festival Village on New Year's Eve, 31st December – with special guests Gavin James and Lyra. There will also be a special afternoon family event and the popular New Year's Day afternoon of live music and family entertainment in Meeting House Square, Temple Bar featuring Liam Ó Maonlaí, Cormac Begley, Clare Sands and Lorraine Nash
Cheerios Christmas Panto | Snow White
National Stadium | December 13th - January 8th, 2023
Sammy and Buffy are back in The National Stadium. There will be more seats and even more laughs is one of Ireland's most popular pantos. I swear on my hair
Funderland Dublin
RDS | December 26th - January 15th, 2023
Christmas just wouldn't be Christmas without a visit to Funderland in the RDS​ and they will return this year with all the family favourites. For almost 50 years Funderland has brought the newest and most exciting attractions for all ages to experience and this year is no different, with so much excitement it's sure to create an unforgettable experience.
The Moving Crib
Saint Martin Apostolate & Chapel | Until January 9th, 2023
Now in it's 66th year, winding your way down to the basement of this lovely Georgian building, you are greeted with a montage of many historical/fun stories, including Noah's Ark, The Wise Men and many more, its scenes, competitions, an illusion wall and a little touch of magic are all sure to guarantee a fun visit for all the family!
Santa's Grotto at EPIC The Irish Emigration Museum
EPIC The Irish Emigration Museum | Midweek Availability Only December 19th, 21st, 22nd & 23rd, 2022
Santa, Mrs Claus and the elves are excited to be back at EPIC this December. They've spent the last few months getting ready for the best Christmas ever and they can't wait to see you all again! We've thought of everything to make your visit extra special so that you can start your Christmas celebrations in the best way possible. Other Christmas events in December include a special Christmas Adventure for Tiny Tots, Tinier Tots and even Babóg Beag.
Wild Lights at Dublin Zoo
Dublin Zoo | Until January 8th, 2023
Wild Lights, the spectacular, night-time experience at Dublin Zoo, is back with an exciting brand new theme – The Magic of Life! Over a thousand breath-taking, dazzling lanterns will portray a fascinating and important story by shining a light on biodiversity. Travel through the illuminated and magical woodland scenes before encountering the wondrous pollinators including giant bees and bee-hives. See some of nature's most amazing transformations from the metamorphosis of a caterpillar into a stunning butterfly to the intriguing co-operation between ants in a colony.
Santa Experience @ Croke Park
Croke Park | November 27th - December 23rd, 2022
The GAA Museum are delighted to announce the return of Santa to Croke Park, the home of Gaelic Games, this year. A team from the North Pole are setting up a training camp in Croke Park and they'd love you to visit as they prepare for their special journey around the world on Christmas Eve.
Santa's Enchanted Forest Christmas Experience
Luggwoods | November 25th - December 23rd, 2022
Magic is in the air as fairytale Christmas characters guide you through the magical enchanted forest at Luggwoods whie you make your way towards Santa's Log Cabin in the foothills of the Dublin Mountains.
Skating Blanchardstown
Blanchardstown | Until January 29th, 2023
Ireland's largest skating rink returns to Millenium Park in Blanchardstown. Ice skating sessions daily with a separate child rink with penguins suitable for all ages and abilities.
Share Village on Ice
Share Discovery Village, Enniskillen | Until 4th January 2023
Share is kicking off the festive period with their fantastic indoor synthetic rink set on the shores of Lough Erne. Fully accessible and sure to create unforgettable memories, the magical ice rink is set under a canopy of twinkling lights.
Festive Fairy Trail
Lusty Beg Island Resort | Christmas 2022
Lusty Beg Island Resort and Spa have a cosy Chrismas package to celebrate the season in comfort incuding a two-night package, Christmas Eve drinks reception and children's activities, Christmas morning breakfast buffet and a Christmas Dinner Banquet. And, someone else does the washing up!
YourDaysOut is a SaaS platfrom that lets you create and sell tickets online, for less!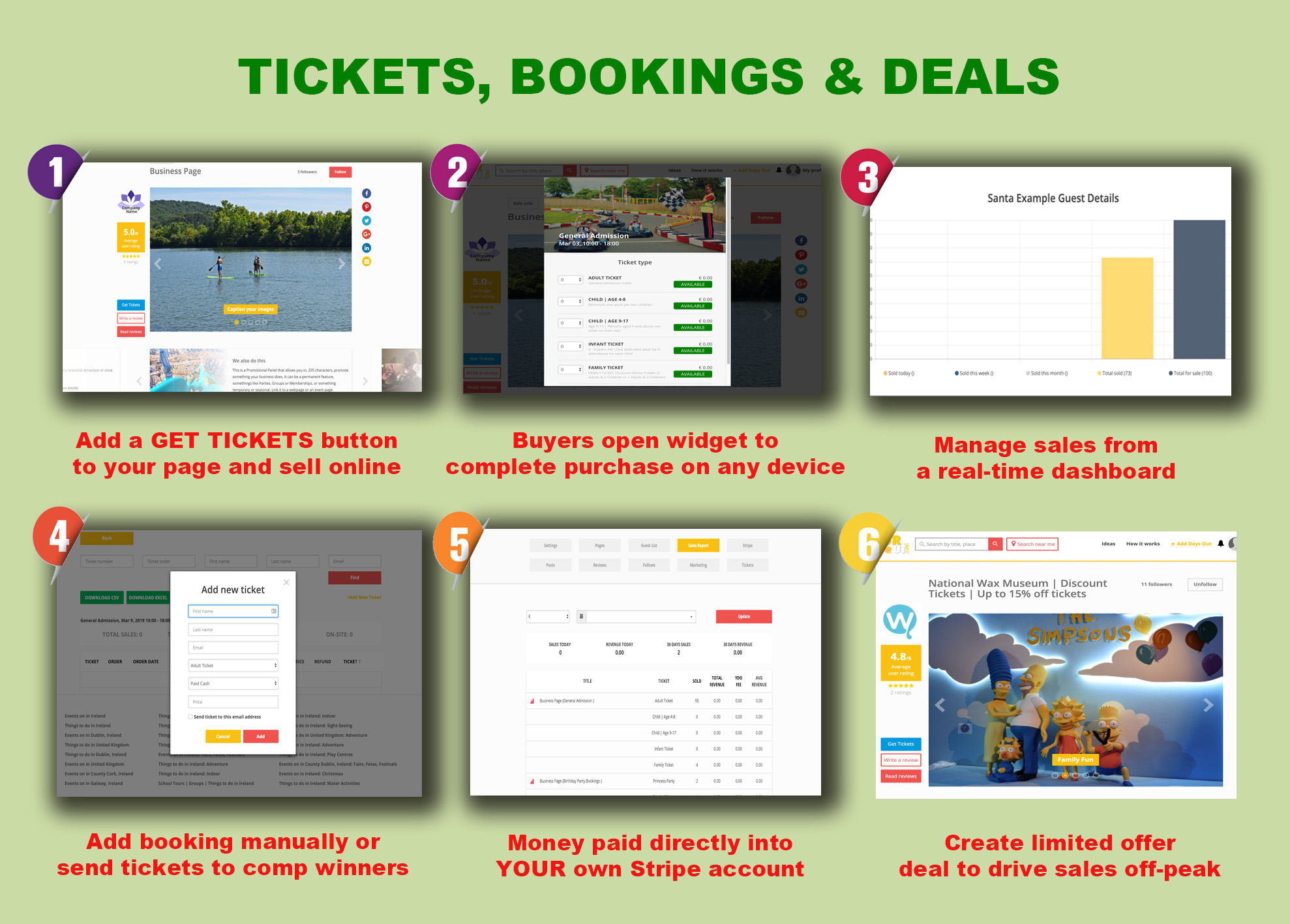 Christmas at Brigit's Garden
Brigit's Garden, Rosscahill | Until 18th December, 2022
Enjoy a magical Christmas atmosphere at Brigit's Garden this year – celebrate the real meaning of Christmas with the emphasis on light, love and warmth at this dark time of year and have some family fun too.There is no theatre show this year but included in your general admission ticket is a jolly holly treasure hunt around the award-winning Celtic Gardens, each child gets a small wooden Christmas decoration to colour at home, each family will be given a special candle to light on Christmas Eve and you can vsit the beautifully lit Christmas Wish Tree in the Hazel Room and hang your special Christmas wishes or memories of loved ones.
Magical Interactive Winter Wonderland
Loughwell Farm | December 10th & 11th, 2022.
The Winter Wonderland at Loughwell Farm Park, Moycullen is a magical, fully interactive festive experience for all the family with plenty of Christmas magic, snowy surprises and yuletide cheer. Step into our sparkling Winter Wonderland to meet Santa & all his elves who will keep the children busy in Winter Wonderland with singing, dancing, face painting, animal balloon making, elfapet learning and cookie decorating.
Cinderella
Town Hall Theatre | December 29th - January 9th, 2023
Renmore Pantomime Society are delighted to be back for our 43rd year with the magical Cinderella! With the enchantment of the Fairy Godmother and the mischief of the Ugly Sisters, they will 'Bibbidi-Bobbidi-Boo' their way through the Town Hall Theatre as you follow Cinderella and her friends on this wonderful family adventure.
Christmas Festival
Slieve Aughty Centre | Until January 4th, 2023
The 2022 Christmas Festival offers a festive day out for families without Santa. This year's Christmas Festival in Galway is designed to help us all get back to what really matters - finding joy, love and time for those we care about. The 2022 Christmas Festival invites you to get outdoors, explore, and rejuvenate. Only €7.50 per person, your entry includes our homemade warm organic apple juice for everyone, a special Christmas Nature activity for the Enchanted Forest, make your own rustic face craft stand, pet the ponies and check out the farm animals.
Christmas at Turoe Pet Farm
Turoe Pet Farm | November 25th - December 23rd, 2022
Meet Santa at his Grotto with your family. As part of your Christmas experience in Turoe each child will receive a Token which will let them choose one present from the special Santa's Shop. Don't forget to bring your letter for Santa to be posted in Santa special post box.
Elf Town
Galway Racecourse | Until December 23rd, 2022
Elf Town is a two hour Christmas experience set over three different buildings with the magical journey itself set over four floors, where at the end, you and your family get a private visit with Santa. This year, every child will receive an Elf Town branded gift pack with an official invite from Santa to Elf Town addressed to the children, our unique Golden ticket and a map of Elf Town.
Santa's Winter Wonderland
Crag Cave | December 2022
Each family will be able to visit Santa on their own in the grotto. The elves will guide all the children and families through the Winter Wonderland. Children can enjoy an animated reindeer ride and a complimentary one hour play in our Crazy Cave soft play centre. udolph and some of the other reindeer will be outside enjoying the magic Crag Cave grass!
Pantos at The Moat | Cinderella
The Moat Theatre | November 30th - 10th December, 2022
In a fairy-tale kingdom, poor Cinderella is a servant to her cruel stepmother Conflictua and ugly stepsisters Nasty Natasha and Scary Susie. When a handsome prince invites all the maidens of the land to his party, she only has rags to wear. With the help of her friend Skittles and a touch of magic from her Fairy Godmother, will she make it to the ball after all? .
Watergate Theatre Panto | Cinderella
Watergate Theatre | January 4th - 8th & 11th - 15th, 2023
Join beautiful Cinderella as she battles it out with her two 'not so beautiful' stepsisters to win the heart of the prince and impress his uber efficient aide, Dandini! The glittering Watergate panto is just what you need to kickstart 2023, packed with a cast of hilarious characters, stunning scenery, costumes, music, dance & fun for all to enjoy!
Christmas at Discovery Park
Castlecomer | From December 3rd
Christmas at Castlecomer Discovery Park Christmas is always a special time at Castlecomer Discovery Park, and although Santa isn't stopping this year, they will be opening the park for winter walks and lots more fun including an elf scavanger hunt and the ever-popular bouncing nets and Junior adventure course will be open for kids aged 3 – 8 to burn off some pre or post Christmas nervous energy.
National Elf Academy
Dunamaise Arts Center | Various times and dates until December 22nd
Did you know there's an elf shortage and Santa's in great need of recruiting new elves to spread Christmas cheer this holiday season? Children big and small will be greeted by Mrs Claus and get to attend the academy, learning some of the most important Elf tasks that help Santa make Christmas as magical as possible!
Christmas in Carrick-on-Shannon
Market Yard | unti Deceember 18th
Each Saturday and Sunday in December there will be Santa's Grotto, Murray's amusements, stage school extravaganza, elves, kids disco, markets featuring local produce and crafts, school choirs, gospel choirs and lots lots more.
Peter Pan | UCH Panto
University Concert Hall | December 16th - 23rd, 2022
Join the boy who never grew up, together with his friends Wendy and tiny Tinkerbell, as they travel to Never Never Land to take on the hilariously horrible Captain Hook and his band of (pretty useless!) pirates! This will be panto back with a bang, so expect your favourite panto characters in a show packed with stunning sets, crazy costumes, the year's biggest hits and at least two years' worth of laugh out loud comedy!
Peter Panto
Backstage Theatre l 20th - 28th January 2023.
Peter Pan is having a bad day. First of all, he loses his Shadow and with it his ability to fly. Then, one by one, he manages to turn all his friends against him. Now that Peter's alone, Captain Hook spies a chance to finally get his revenge! Will the Pirates make Peter walk the plank or will Tinkerbell, Wendy and The Lost Boys find a way to save the day?
Christmas at Bellurgan Park
Bellurgan Park | 16th - 22nd December, 2022
Santa Claus will be lodging at Bellurgan Park House, with its original Georgian period features and the halls decked with thousands of sparkling lights, Christmas trees, holly wreaths and ivy from the estate. This makes the perfect setting for a traditional Christmas and an enchanting experience for children and adults alike.
Jack & the Beanstalk
TLT Theatre | December 22nd - January 8th, 2023
Once upon a time, way out in the flowery flatlands of Fairytaleland, there lived a boy called Jack, who dreamed of being a World Champion Climber. His days were spent uneventfully playing with his best friend, Daisy the Cow, and his mam, Dotso, until an unstable global economy and a chance encounter with a hooded stranger combined to send him on the wildest adventure of his life. Join the TLT Theatre for another hilarious telling of a classic fairy tale in the magical Christmas panto you've bean waiting for.
Winter Wonderland Westport House
Westport House | Until 23rd December, 2022
Hop on board the Winter Wonderland Express train to take a ride to Westport House where you'll be dropped off at the stunning 18th century historic house. Soak up the decorations and take a family photo in front of the big tree in the Front Hall. Here you can get faces painted, make a wish at the Wish Tree and you'll enjoy a drink, Mrs Claus will pop in to say hello and an extra special one-on-one time with the main man himself in his Grotto in the outdoor Tinsel Town.
Winter Wonderland
Navan Adventure Centre | until December 23rd, 2022
Take a stroll with your little ones through our elf village to create amazing decorations and play festive games with our wonderful team of Christmas helpers! At the end, there's a special grotto meet and greet with Santa including gift for every child
Tayto Park Christmas Experience
Tayto Park | Various until December 23rd, 2022
Follow Jingles the Elf as he shows you and your family, behind the scenes, what Christmas means for the elves that work with Santa. Meet a whole host of characters along the way, before finally meeting the Santa Claus himself! Retro Drive-in Movies are also returning to Tayto Park on Saturday 17th of December 2022 with showings of The Polar Express, Elf and Home Alone. The park is also open with Winter Special tickets that include access to the Zoo and Junior Zone.
Santa at The Ark Playcentre, Puddenhill
The Ark Playcentre | December 17th & 18th 2022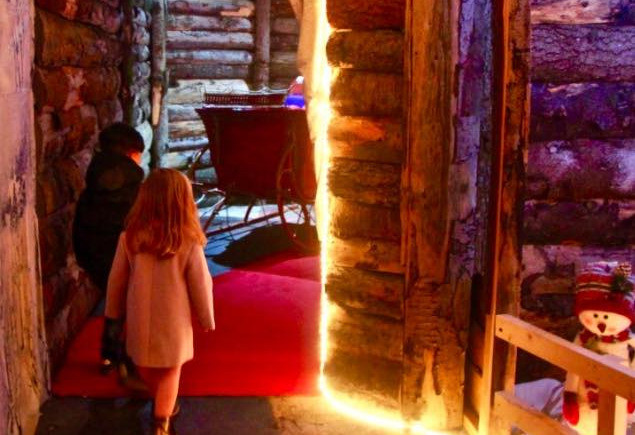 A visit with Santa and Mrs Claus and all the elves with a special present for all the good children. You can also relax and enjoy the festive Christmas atmosphere in the popular play centre.
Santa in the Tin Church
Tin Church, Laragh | 27th November, 2022
A private family visit with Santa Claus in the magical Tin Church, take a family picture in Santa's Sleigh, post your letter to Santa in the North Pole post box, visit Christmas Cottage - stir the Christmas Pudding and make your wish, story time with Mrs Claus and lots more in support of the Laragh Heritage Community Group.
Santa in the Park
Billy Foxes Park | 10th December, 2022
The park is turned into a Winter Wonderland once again to help raise funds for the its upkeep. Walk the magical Winter Trail, Visit Santa Claus' hut, Post Santa your letter with Polar Mail, enjoy a seasonal hot chocolate and selection box.
Christmas Elf Trail
Birr Castle Gardens & Science Centre | 8th December, 2022 – 6th January, 2023 (except 25 & 26 Dec and 1 Jan)
Festive fun searching for our resident Elf & Reindeer's lost name in the gardens. Pick up your trail & pencil at reception & head off in search of the letters. Includes a little sweet treat at the end if you complete your North Pole Mission. Included in admission price.
Christmas, A Family Celebration
Playtown, Tullamore | December 17th & 18th, 2022
All the fun of Playtown plus Elves Workshop, Face Painting, Hot Chocolate and a Christmas Gift Hunt, Santa's gifts have fallen off his sleigh and landed in Playtown. Can you help find them all? Included in any play or party experience.
Christmas at Strokestown | The Victorian Christmas Experience
Strokestown Park | Until December 23rd, 2022
Enjoy Christmas at Strokestown Park, meet Santa and a host of festive characters at their Victorian Christmas Experience. The children will have fun and games at Strokestown this Christmas. When you book a tour you will find yourself on a wonderful journey, culminating in a special meeting with Santa who is resting up in the big house at Strokestown. All tours will begin at the Visitor Centre and end at the enchanted Woodland where more festive fun is to be had.
Santa's Underground Grotto
Arigna Mining Experiencee | December 10th, 11th, 18th, 19th, 2022
Santa is making his highly anticipated return to Arigna Mining Experience this Christmas, for Santa Underground 2022! Once again, Arigna Mining Experience comes alive with a special festive atmosphere. The visit to Santa in Arigna is a unique, exciting fun-filled event for all the family and features fun family shows each day including Custard Pie Puppets or Joe Daly Magician.
Santatown
Sligo Folk Park | December, 2022
There will be so much to see and do for children of all ages and parents too. Whether you meet Santa and tell him all of your wishes or listen to Christmas stories told by his dear wife Mrs. Claus, it will surely be a Christmas to remember. You can visit the elves in their workshop and create some magical memories. Post your Christmas letter to the North pole, get cuddly with Santa's furry little friends in the petting zoo, create your own Christmas wreath and more.
Santa at Tearaways
Tearaways Pet Farm & Activity Centre | December 17th & 18th, 2022
This year, the popular festive favourite return with morning and afternoon play session so you won't have to queue for Santa. The Christmas experience includes three hours of play time, an individual visit to Santa with a selection box for each child!
Christmas Family Fun | The Burnavon
Burnavon | 10th December, 2022
Visit the Burnavon Theatre for a fun-filled Arts & Crafts taster session. This promises to be a great day out for all the family. Children must be accompanied by an adult. There are three free sessions to choose from including an ASD Friendly one from 11:00am.
Santa's Enchanted Christmas
National 1798 Centre | Until December 22nd, 2022
In a new venue this year, there will be plenty elements of surprise as you enter inside the multi-room, magical spaces, featuring pop-up, theatrical live characters to be found along the way. Mrs Claus and her elves & gnomes will then entertain and transport the kids towards Santa to receive their seasonal gift. A magical time is to be had for all.
Krinkletown
The Workhouse, Kilmacthomas | Until December 23rd, 2022
KringleTown is a magical indoor/outdoor Christmas event including Market Stalls, the 'K.Kringle Christmas Emporium' & of course the KringleTown Santa Experience. Visitors are welcome to come visit the market during our opening hours without any prior booking or admission fee but Santa Claus @ KringleTown needs to be booked in advance.
Waterford Winterval
Waterford | Until December 23rd, 2022
Returning to the Ireland's Oldest City with original attractions like Santa's arrival to Waterford, Winterval on Ice and the Winterval Carousel and the introduction of new events like the Winterval Circus, Magic at the Apple Market and Winterval's Wizards & Dragons and lots more that will dazzle and delight!
Enchanted Garden Winter Light Festival
Lafcadio Hearn Japanese Gardens | December 3rd - December 31st, 2022.
The Enchanted Garden Winter Light Festival is one of the most stunning light displays in the country. This amazing winter wonderland at the Lafcadio Hearn Japanese Gardens, Pond Road Tramore runs until December 31st, 2022. These unique Japanese Gardens are lit at night by a sea of twinkling lights, animal sculptures and dramatic tree and foliage lighting, all creating a magical winter wonderland. (Extra nights may be added into January, 2023.
The Santa Express
Waterford Suir Valley Railway | until December 23rd, 2022
Set off on an exciting journey on a real train beside Waterford Greenway and by the majestic River Suir to meet Mrs Claus and friends in the Magic Wood. The Fairies in the Magic Wood have been busy making the magic dust to help Santa find your house on Christmas night.
Visit Santa at Belvedere House
Belvedere House & Gardens | Until December 23rd, 2021
Visit Santa in his festive lit Boathouse at Belvedere House, Gardens & Park this December. Each family gets a 10 minute visit with Santa as well as access to the house, gardens, park and play area. You can stay and book Land of Light too; as you walk your way along the forest trail, the night sky, trees and buildings are lit up by a spectacular light show, with stunning atmospheric music to complete the scene. It's like walking through another world!
Santa at Mollies
Mollie Moo's Pet Farm | Weekends until December 18th, 2022
Meet Santa and his elves, have a chat and feed all the animals. Children get a bag of food to feed the animals as they make their way over to visit Santa and receive a present.
Aladdin
National Opera House | January 18th - 22nd, 2023
Your three wishes are granted as Wexford Panto return in our new home The National Opera House with the South East's biggest Panto!Join our hero Aladdin and his best friend Bish Bosh who along with his Mammy the Widow Twankey and little sister's Wishy and Washy are out on a new and exciting Arabian adventure to get rich quick and win the hand of the beautiful Princess Jasmine.
Magical Christmas Experience
Kia Ora Mini Farm | November 26th - December 23rd, 2022
Come visit the animals, see Santa's cosy home and view in amazement their enchanting musical light show. Each good child will receive VIP access to the fantastic present room where they can pick their own unwrapped present from our large range with the help of our merry elf..
Christmas Island
Hidden Valley Holiday Park | November 25th - December 23rd, 2022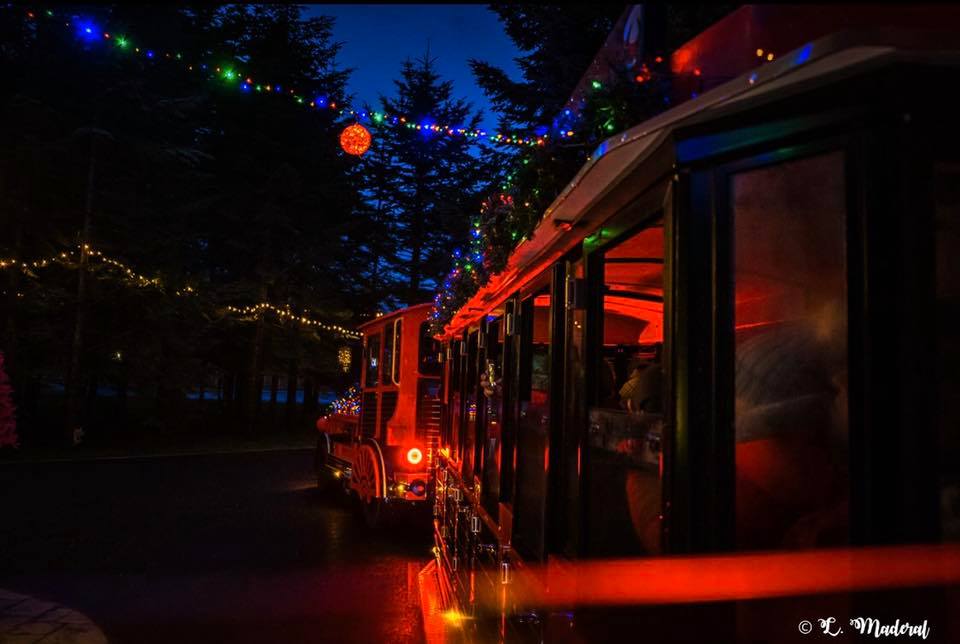 Your experience will include an exciting journey on The North Pole Express, a trip to Christmas Island where you'll meet the Elves who will try to bring out your creative side and also your wild side with a bit of singing and dancing. You will then visit with the mischievous elves before you head into their new secret portal to visit the big man himself in Santa's Grotto.