Castlecomer Discovery Park
72 followers
School Tours

Woodland, lakes and rivers – we have the ideal outdoor environment here at Castlecomer Discovery Park and we're enthusiastic about sharing our world with you!
Castlecomer Discovery Park, Drumgoole, Co. Kilkenny, Ireland
Suitable for:
Facilities:
Set in a stunning 80 acre woodland, Castlecomer Discovery Park boasts an exciting range of recreational and educational activities.
There's a whole day of fantastic activities to be experienced for visitors of all ages so come see for yourself!
At Castlecomer Discovery Park we offer a wide range of fun, challenging and exhilarating activities that can be enjoyed on your own, as a couple, together as a family or as a group of friends, colleagues, teammates, classmates or scouts group etc
Timber Tumbles Playground
Set at the entrance to the park, the Timber Tumbles Playground a fun adventure play area suitable for children aged 2-14 year-olds. The playground reflects the coal-mining theme of the local area and includes a mini zip-wire, climbing wall, swings and slide.
The playground was designed following extensive consultation with local children and incorporates a mining theme to reflect Castlecomer's rich coal mining heritage e.g. a truck cart, tunnel conveyor belt, amphibian creature etc.
The playground uses Robina wood and other natural materials to fit with the wooded setting. The Timber Tumbles Playground is owned and managed by Kilkenny County Council. All children using the playground must be supervised by an adult at all times.
Junior Woodland Adventure Course
The exciting new Junior Woodland Adventure Course was specially designed to encourage small children to become more active and adventurous in a woodland environment. Made of natural materials, traditional rope and Larch wood, it's a series of low-risk challenges where children balance and steer their way through the course. ISuitable for 3-8 year-olds, and helmets are provided.
First come first served basis, tickets at reception or at the course
Check for open periods
Elf & Fairy Village
FREE to enjoy everyday..this enchanting woodland area is a magical experience for all the family!
The Elf & Fairy village has a small yellow sweet shop, cute café, an underground bunker, and an amazing Head Quarters for the fairy folk!
It's full of colourful hand-carved toadstool mushrooms where children can meander through the woodland paths. Visitors, of all ages, can enjoy the woodland village which is FREE and is a short 7-10 minute walk from reception.
Next to the village is the stunning new hexagonal shaped 'Bluebell Playhouse. Handcrafted, the playhouse has a number of rustic benches for children to read some of the books from the 'woodland' library.
The hexagonally shaped playhouse and surrounding hut village is a space where children can roam free of charge and play to their heart's content. The pretty Bluebell colour paint was generously provided by McDonnell paints while the design and construction was completed by local master carpenter Len Brophy.
Plans are in place to add some special surprises to inspire creative play and imagination. The playhouse will open for play 12 pm – 4 pm (seasonally).
Tree-Top Adventure Walk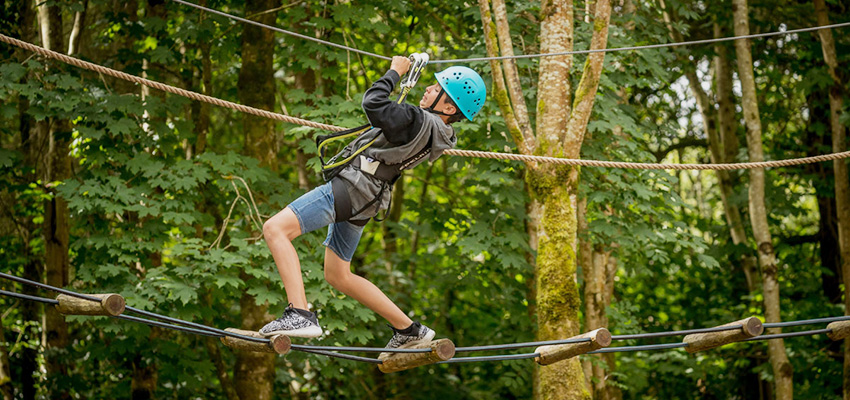 Discover your inner climber by completing the Tree Top Adventure Walk.
Walking high above the Sycamore tree tops, 10 metres above the ground, this 140-metre long course gives a birds-eye view of the park to those brave enough to venture up!
Perfect for a family adventure, team building, or corporate groups. We encourage you to take the path in the sky!
Climbing Wall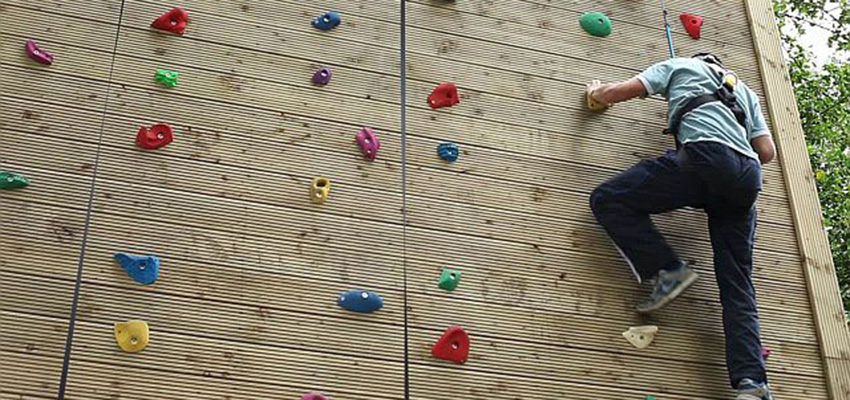 Reach new heights by challenging yourself on our great outdoor climbing wall. We have three climbing routes with varying levels of difficulty for all to enjoy.
Minimum age Age 7+
Minimum Height (1.2m height)
Maximum weight 120 KG
Pre-booking essential
Zipline & Octagon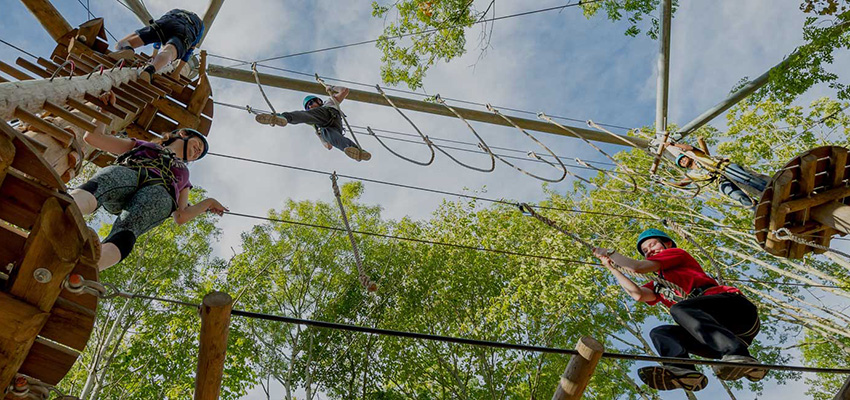 Castlecomer Discovery Park is home to Ireland's longest zip line. It is 300 metres long and 35 metres over the ground at its highest point. Visitors zip over our stunning woodland, two lakes and 17th-century hand-restored bridge.
The exhilarating zipline is accompanied by the Octagon High Ropes Course. Set on an octagonal frame over two levels, this presents a series of challenges in the form of nets, ropes, wooden bridges etc. The Octagon is more challenging than the existing Tree-Top Adventure Walk Course.
Zipline and Octagon High Ropes Course participants must be age 12+,
Min height 1.3m
Maximum 120kg weight.
You should arrive in Visitor Centre at least 30 minutes before allocated time to register. The start of the course is approx. 15 min. walk from the Visitor Centre.
Online pre-booking essential to ensure availability.
Boats & Canoeing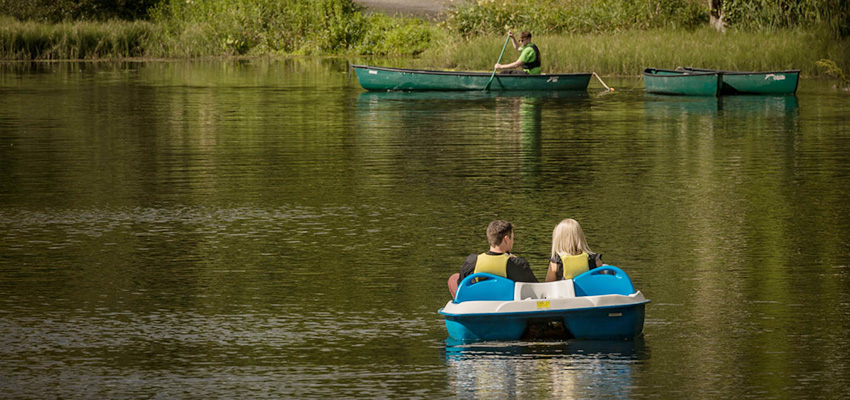 Visitors to Castlecomer Discovery Park can enjoy leisurely boating activities on the larger of our two picturesque lakes, in our stunning natural woodland setting. The lakes are surrounded by a variety of magnificent trees, and you can admire the backdrop of the beautiful recently restored 17th century stone bridge.
Our boating activities give you the chance to sit back, relax and enjoy the beautiful surroundings of our 80-acre woodland. So whether you're after a fast-paced or leisurely cruise around the lake you can still fit in some exercise while having fun on our Pedal boats and Canadian canoes!
MAX 4 persons per paddle boat (min. age 4 years. Under 16's must be accompanied by adult)
MAX 3 persons per canoe (min. age 4 years. Under 16's must be accompanied by adult)
Change of clothes recommended, suitable footwear required (no flip-flops)
Misconduct will result in removal from the lake, no jumping into the water.
Orienteering & Walking Trails
Three permanent orienteering trails are set up in the woodland to complement the range of recreational activities here at the park.
These courses vary in the distance; 1.6km Short, 2.4 km Medium and 3km Long. Each course has a number of codes secured to wooden posts throughout the 80 acres of woodland.
The trails can be done at ease or for those that want a challenge can be completed by competing for time. This provides the opportunity for participants to return and do a longer and more advanced trail as an individual, in pairs, or as a team.
The laminate maps can be purchased at reception
Participants are shown the answer sheets at the reception desk of the visitor centre on the return of the maps.
This is a self-directed activity and can be done 7 days per week from 9.30am – 5 pm – or until 8 pm if you wish to forego deposit and locate all codes so that the answer sheet is unnecessary.
Suitable outdoor clothing and footwear are advised.
Archery
Visitors to Castlecomer Discovery Park can enjoy our latest attraction located just beyond the elf and fairy village.
Our trained instructors will give you a crash course in how to unleash your inner Robin Hood. Feel at one with nature in our woodland archery range.
Book in advance online to avoid disappointment.
Suitable for age 8 years upward
Raft & Catapult Building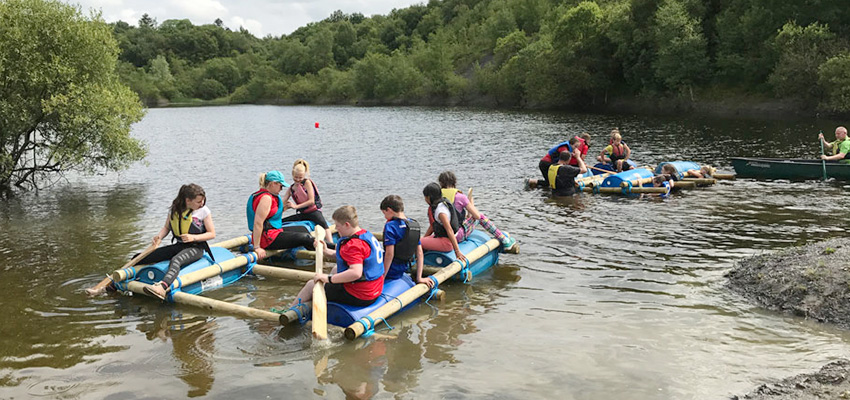 Harness your inner Bear Grylls and learn how you might survive in the wilderness. Our trained bush craft instructors will challenge you with tasks such as raft building. How would you fare getting off a desert island?
Your team are required to make a water worthy vessel, but using only limited supplies and no instructions! Teamwork, communication, and a positive attitude are key to staying afloat.
What is Raft Building?
You are given the raw materials to make a water worthy vessel, can you work as a team to use those materials to stay afloat? Our instructors are on hand to assist, but your goal is to work as a team and harness the groups problem solving abilities. Your team will feel invigorated once your challenge is completed and you set sail!
What is Catapult Building?
You might remember the little version of these you created as a child; our catapults are larger versions worked by a lever and ropes for hurling large stones or other missiles. Once more you are given the basic materials and its your teams combined know how that will
Coal Mining Museum & Exhibition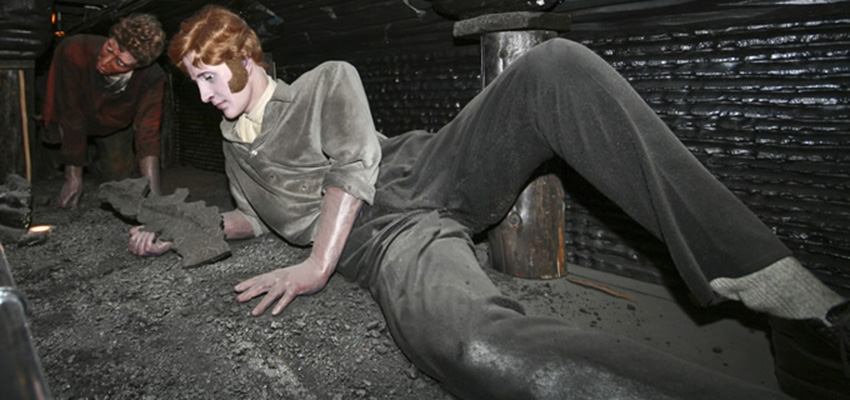 The Coal Mining Exhibition comprises a 45-minute tour through Castlecomers coal mining past. The exhibition is an interactive multi-media display that takes the visitor on a journey through time.
Starting with the formation of the coal 300 million years ago, it brings the visitor through more than 300 years of coal mining history to the closure of the mines in 1969.
Open daily, last entry 1 hour before Visitor Centre closing time.
Adults: €5
Children: €3
Students/OAP: €4
Family: 2+2: €15
Group & School Rates available
Castlecomer Craft Yard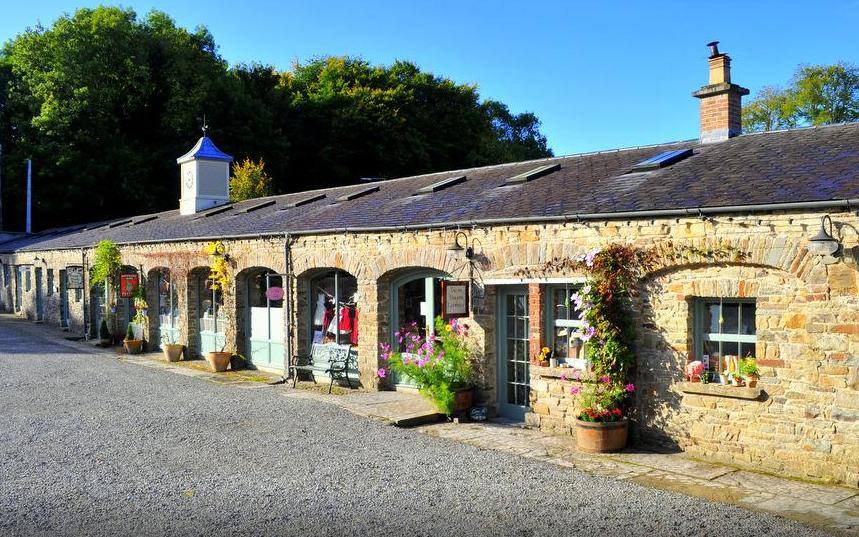 When you are here why not take a wander around the Castlecomer Craft Yard, home to a growing group of crafts people and artists.
Today you can visit their beautiful shops in what was formerly the farmyard and stables of the Wandesforde family.
Schools Activities
At Castlecomer Discovery Park we believe we have a great story to tell, we're enthusiastic about sharing our world with you. Our education programmes are fresh, innovative, exciting and strive to make learning fun for all.
We offer a wide range of student-centred educational activitiesfor both Primary and Secondary schools as school tours, class visits and fieldtrips. Curriculum-based learning takes place in our extensive 80 acre woodland, by the lakes and river and also indoors in our dedicated education rooms.
We aim to deliver an enjoyable and memorable educational experience beyond the classroom boundaries in a safe, fun, inclusive and picturesque environment
Our Education Programme is available throughout the school year (except December). You can combine education and recreation activities to create an action-packed, memorable school visit to Castlecomer Discovery Park
Tree Top Adventure Walk (€12.50pp or €11pp with 20+ students)
Climbing Wall & 'Leap of Faith' (€10pp or €9pp with 20+ students)
Above 3 high-ropes activities (€20pp or €18pp with 20+ students)
Team Agility Challenge (€5pp, minimum 20 students)
Junior Woodland Adventure Course (€5pp)
Orienteering Trails (€4pp)
Boating (€5pp)
Fishing (€5pp, shared rod)