Nore Valley Park
10 followers
Mobile Farm

Perfect for parties – we can bring our friendly farm animals to meet you! With different packages to suit your needs, we bring our Mobile Farm van to schools, crèches, parties, family days & promotional events across the South East and beyond.
Annamult Rd, Annamult, Co. Kilkenny, Ireland
Petting Zoo
,
Maze
,
Walking & Hiking
,
Adventure Farm
,
Angling
,
Easter
,
Halloween
,
Camping
,
Playgrounds
,
School Tours
,
Go Karts
,
Santa
,
Feed the animals
,
Archery
,
School Holiday Camps
,
Caravanning
,
Holiday Park
,
Self Catering
,
Campsite
,
Cabins
,
Stag/Hen
,
Corporate
,
Team Building
,
Home Entertainers
,
Family Fun
,
Christmas Experience
,
Birthday Party
,
Confirmation
,
Summer Camps
Monday- Saturday: 9am to 8pm. Closed Sundays
Adult
- EUR 7.50
Child
- EUR 7.00
Family
- EUR 27.00
Suitable for:
Facilities:
Nore Valley Park is a campsite, an open farm and an activity centre. We are open from March to October each year.
Nestled on the banks of the idyllic River Nore, we are the perfect countryside location for a relaxing family getaway while being a very short distance (20 minutes) from Kilkenny city, and very close to the M9 motorway.
A family-run business in operation since 1989, we put families first. Our annual events and activities and our award-winning facilities are recommended by and focussed on families.
As well as a stunning campsite overlooking rolling green hills and a gentle river, we are home to a wide range of farm animals. On the farm, you will see everything from the more common farm animals such as sheep and goats, hens and ducks to the more unusual, like ostriches, owl and red deer.
While the farm is ideal for a family day out, some may want the fun of the farm at home... Well, our farm can come to you! Book our Mobile Farm and we will bring gentle and friendly live animals to your home, school, nursing home, creche, or place of work. Packages start at €100; you won't be disappointed!
Pet Farm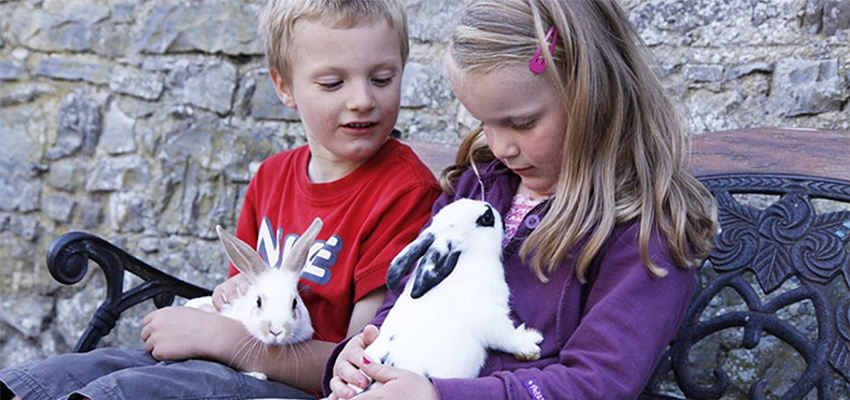 Come and learn something new while visiting a working farm. With stunning scenery, adorable animals, and amusing activities, we are where memories are made.
Take time out and stroll around the farm, feeding and petting our wide range of animals. Children are free to play in an interactive and safe environment with facilities and activities to suit all ages. Throughout the day we offer a chance to bottlefeed lambs or goat kids, cuddle baby rabbits and hold newly hatched chicks. Relax with a cup of tea and home-baked scone or biscuits, and pick up a souvenir or a snack from our shop.
While we promise enjoyment for families taking a day out, we also offer unique and memorable experiences for groups, birthday parties, hen parties, and team-building excursions. Discuss with us your needs and we will gladly accommodate!
Activities
Hold and feed animals
Pedal go-karts
Tractor & trailer rides
Crazy golf (18 holes)
Indoor 3D Maze (10 permutations)
Straw bounce
Outdoor playground with swings and slides
Exciting range of farm animals
Two-mile river walk and nature trail
Picnic area and toilets
Refreshments available with home-baked food
Family Visit Prices
Adults €7.50
Children €7.00
Over 60's and Students €7.00
Family (2 Adults & 2 Children) €27
Family (2 Adults & 3 Children) €33
Family (2 Adults & 4 Children) €39
Season passes and weekly passes available
Extra Activity Prices
Crazy Golf €3.00pp
Trailer Ride €1.50pp
3D Maze €1 per entry
Go-Karts €1.50pp
Multi-activity discounts available.
YOU CAN STAY AS LONG AS YOU LIKE - A FEW HOURS OR THE WHOLE DAY.
Staying at Nore Valley Park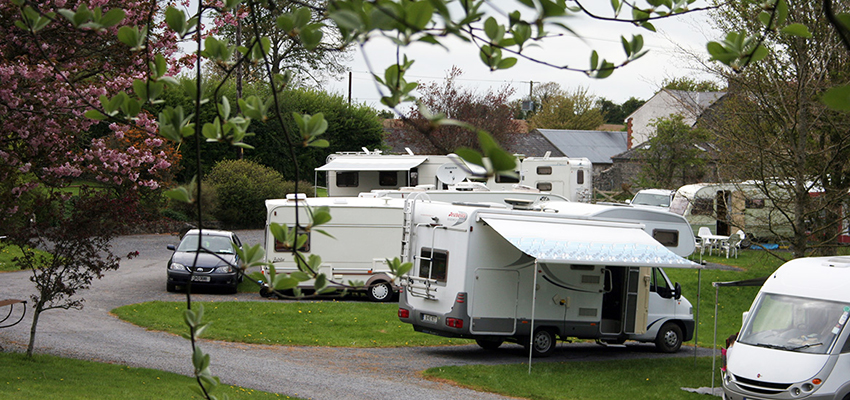 Camping
Our award-winning family-run site is ideally located in a quiet, peaceful valley and is personally supervised at all times.
As a family-oriented site, high standard of cleanliness is a priority and we expect no noise or socialising after midnight. Enjoy free showers and hot water, and access to kitchen facilities, laundry room, pool room, TV lounge, and free WiFi when you stay with us.
Fires are not permitted on site. Gas or charcoal barbeques only.
Lots to do!
Enjoy a scenic two-mile riverwalk through the farm and woodland, have fun in our kid-approved playground, make your own fun in the sandpit with diggers and the straw bounce, or excercise your mind with our giant chess set.
Also available for a small extra charge we have pool tables, crazy golf, pedal go-karts, tractor and trailer rides and a 3D indoor maze. Within 10 km of Nore Valley Park, there are other amenities including swimming, fishing, canoeing, golf, craft shops, horse-riding and many historical sites.
You can enjoy home-baked bread, scones, tarts, pizza and quiches daily or start the day with a continental breakfast. All made on site and available from our small farm shop.
Wooden Lodges
Our Wooden Lodges are furnished with bed linen for each of the beds, and furnished with chairs, storage and a flat-screen TV with all of the Saorview channels.
There are no cooking or sanitary facilities in the lodges, but patrons have access to the toilets and free hot showers on the campsite, along with the new communal kitchen which is equipped with two four-burner gas hobs, a kettle and a toaster and a microwave. Guests are encouraged to bring their own cutlery and crockery, but these can be rented if needed.
Booking Deposit of €100 is required on week stays and €30 on short stays.
Mobile Homes
There are four mobile homes located on site. Two six-berth mobiles and two eight-berth mobiles.
Duvets and pillows with covers are provided, but guests need to bring their own sheets, towels and tea-towels, plus blankets as needed. Each mobile home is equipped with a TV with all the Saorview channels, along with all the basic cooking equipment, which includes oven, gas rings, kettle, fridge, crockery and cutlery.
As well as dining space within each mobile home, we also provide picnic tables outside each mobile home for sunny weather. Weekly bookings require a deposit of €150 and shorter stays require a deposit of €75. Full payment is due on arrival and your deposit will be returned on departure after mobile has been checked and left in good condition. Full refund of deposits is available only until two weeks prior to date of arrival.
Type E – All mobile homes are over seven years old. All mobile homes are fully functional with cooking, heating, and bathroom facilities.
Activities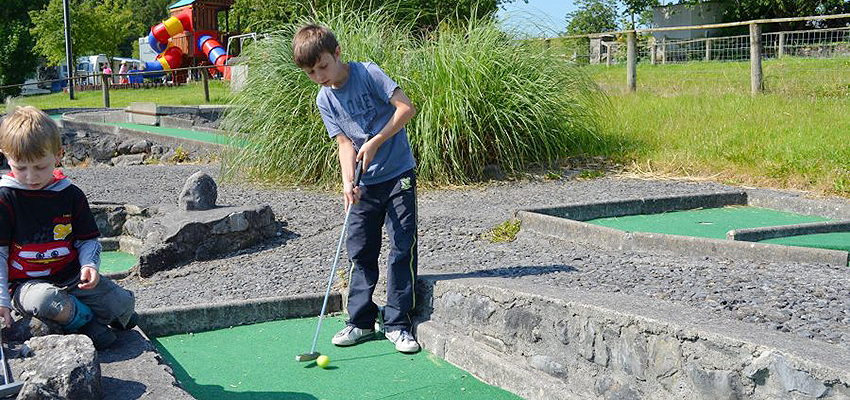 Crazy Golf
18-hole course, varying from par 2 to par 4
€3 per person for 1hr
Score cards provided
Family discounts are available
Indoor 3D Maze
10 levels of progressive difficulty
€1 per person per level
Family Discounts are available
Go Karts
Pedal go-karts, in different sizes and with adjustable seats
€1.50 per person
Each session lasts around 10 minutes
Trailer Ride
Up to 30 passengers at once
€1.50 per person
Family Discounts are available
Each trailer ride lasts around 15 minutes
Birthday Parties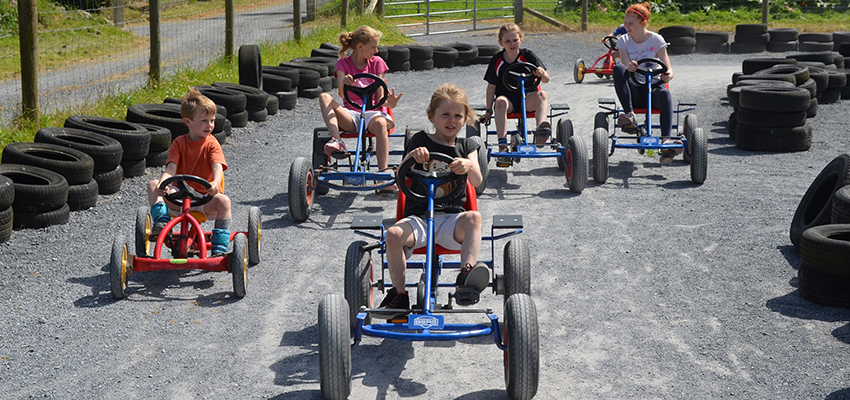 At Nore Valley Park Pet Farm we can tailor a birthday party package to suit every budget, contact us to discuss your needs.
Options include:
Supervised animal handling session
Treasure hunt
Photo orienteering
Archery (10 years or older)
Team building (10 years or older)
Tractor and trailer ride
Crazy golf
Pedal go-karts
3D maze
Private birthday room
Gift bags
Hot food available or facilities to bring your own
Shop with ice creams, sweets and souvenirs
For every five children, one adult goes free; additional adults will be charged at normal rate. Birthday parties typically last for two hours but you can stay on and enjoy the farm for as long as you like – the whole day if you wish!
As an alternative, you can also ask us to come and bring animals to your birthday party. Starting at €100 our mobile farm is an affordable alternative to make your child's birthday extra special.
School Tours
With almost 30 years of experience, school tours at Nore Valley Park are memorable and educational. Not only will your school trip be great fun for the children, but it will be interactive, educational and affordable.
Classes are personally guided around the farm by our enthusiastic and knowledgeable staff to learn about all the different animals. Children are encouraged to be inquisitive and to ask questions.
We provide a safe, hands-on approach, and specialise in supervised petting and handling of our animals.
Book your school trip today and discover why schools keep coming back to us after almost 30 years of farm tours!
Tours start from as little as €8.00 per child, including one activity.
Tailor-made trips
Make your school trip distinct; mix and match different activities and optional extras to ensure the children have an educational experience to remember.
Pet Farm Visit
Straw Bounce
New Playground
Tractor and trailer rides
Pedal go-karts
Crazy golf
3D maze
Team building (2nd-6th class and older only)
Photo Orienteering (2nd-6th class and older only)
Hot and cold lunches, or bring your own packed lunch
Prepared souvenir bags for Juniors who find shopping difficult, e.g. notebook, pencil, rubber and bar (must be pre-ordered).
Group leaders are FREE and tours last around two to three hours. Tours are geared to suit different age groups from pre-school to 6th class. We have easy access and parking for buses, and tea/coffee is provided for teachers and coach drivers.
School tour prices:
Basic Package:- €8 per person
Includes a personally guided tour of the farm, one activity of your choice (tractor ride, 3D maze, or pedal go-karts), supervised petting and handling session with baby animals, use of the straw bounce and the playground – 2.5 hours
Basic Plus:- €9 per person
Basic package plus one additional activity – 3 hours
Premium package:- €10 per person
Basic package plus all three activities – 3.5+ hours
18 hole crazy golf can be added to any package for €2.50 per person.
Food:- €4
Salad wrap
Chicken wrap
BLT wrap
Served with fruit & a drink
OR
Burger
Popcorn chicken
Battered sausage
Served with chips & a drink
To make a booking:-
Email: [email protected]
Phone: (056)7727747
New senior class activities
Group rates available for activities with more than 15 people (teachers and group leaders go free).
Team building: Farm-themed team activities to challenge students mentally and physically. Designed to improve communication and co-operation within a team dynamic.
Maze: 3D indoor maze with 10 permutations; a unique and memorable experience. Different levels for different age groups.
Photo orienteering: A great introduction to orienteering; search the farm for key features, and mark their locations on a map. Competitive and fun for all ages and abilities.
Archery: Professional lessons on how to shoot a bow in a safe and controlled environment. Limited places at any on time, enquire upon booking.
Souvenir and tuck shop: Good range of affordable souvenirs and treats.