Delphi Resort, Connemara, Co. Galway
7 followers
Looking for adventure in Galway?

Delphi Adventure Centre in Leenane provides a range of land and water activities in Connemara and Mayo including surfing in Louisburgh, coasteering in Westport, zip lining in the 300 acre Delphi forest, kayaking on the Killary Fjord, plus many more!
Ireland
Adventure Centre
,
Walking & Hiking
,
Easter
,
Halloween
,
Cycling
,
School Tours
,
Climbing Walls
,
High Ropes
,
Mountain Bikes
,
Archery
,
Kayaking
,
Canoeing
,
Surfing
,
Orienteering
,
Hotel
,
B&B
,
Bike Hire
,
Kids Club
,
Rafting
,
Stag/Hen
,
Bushcraft
,
Corporate
,
Team Building
,
Restaurant
Open daily
Suitable for:
Facilities:
From warm Irish hospitality to exquisite food, outdoor adventure to ultimate relaxation, Delphi Resort is the place to escape to, to enlighten your lust for life, awaken your senses and truly embrace Ireland's magnificent landscape and scenery, all from the comfort of the 300-acre resort.
Delphi Resort is located in the heart of the scenically breath-taking Delphi Valley, near Leenane, Connemara, Co. Galway, Ireland. With its stunning scenic location, Delphi is a world apart and a haven for romantic getaways, special occasions, adventure-filled family holidays and wellness escapes.
Situated just 10 mins from Leenane, Connemara, 30 mins from Westport and 80 mins from Galway City, Delphi Resort is surrounded by magical scenic drives along the Wild Atlantic Way.
If looking to explore the area, Kylemore Abbey and Connemara National Park are located just 30 mins away, with Louisburgh and Croagh Patrick just 20 mins away – making Delphi Resort the perfect base for those that want to get settled at the resort and for those that like to travel and see the sights! Free car parking is available at the resort for guests and visitors.

Enjoy a blissful nights' sleep in Delphi Resort's 4 Star hotel in Galway. Designed to help you get some well-earned rest and relaxation after a day's adventure, every room here is built for comfort and tranquility.
With seven different types of hotel accommodation to choose from in our hotel in Galway select a roomy luxury suite or a cosy double room, or something just right in between.
Snuggle down to sleep on super-soft cotton bed linen, plump pillows and extra-downy quilts. If you're thinking of staying in one of our suites, take time to relax and make yourself at home on the comfy couches or read a newspaper outside on the wooden deck chairs while taking in the scenic views.
The bathrooms all have fluffy oversized towels, perfect for wrapping yourself in after a shower or bath. Even if you've brought your own toiletries, the locally made organic bath and shower products in the bathrooms are an additional treat.
As all our rooms are built with the breathtaking scenery in mind, you'll have a fantastic view close by to wherever you choose to lay your head.
There's only one thing missing: a television. With an action-packed day or even a week of adventure to recover from, or be ready for, we guarantee you won't miss it. There are no TVs in the bedrooms however, DVD players are available on request with accompanying TV. Please note, TVs have no channels and are for playing DVDs only. Limited availability.
Food is central to the Delphi Resort Connemara experience. With so many adventure options on offer, it's no surprise that our food menus are just as varied and full of exciting things to try.
Delphi Resort is surrounded by stunning countryside and fertile waters. The west of Ireland is rich with local farms and growers; thanks to them our dining menus boast the finest fresh produce, organic Irish lamb and beef, and seafood from the Killary fjord and Connemara shores in County Galway.
Don't know where to eat in Connemara? We've got a selection of great food outlets in Connemara to choose from:
The 814 Restaurant & Bar
Indulge in the finest Irish gourmet foods in The 814 Restaurant in Connemara. The 814 Bar also serves food from 12.30 pm – 9.00 pm daily. Full Irish Breakfast is available for non-residents at €12.50pp
Wild Atlantic Café
Fire up your day with coffee and snacks at the Wild Atlantic Café
Dining Evenings & Events
Culinary events are held on a regular basis at Delphi Resort. With a focus on local foods and suppliers, the series also offers a few twists, with everything from a seafood evenings to craft beer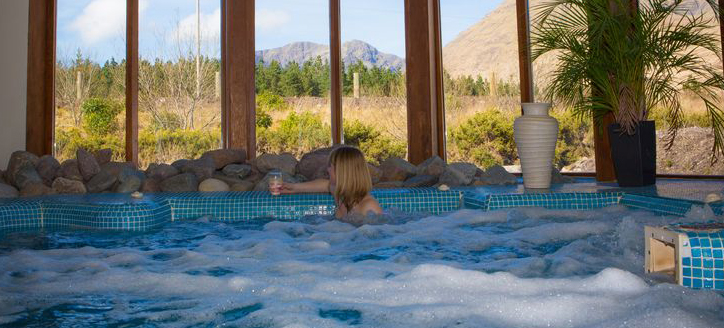 Delphi Resort's spa hotel in Galway is set in some of the West's most inspirational landscape.
The entire experience at Delphi Spa in Connemara is one of tranquillity and relaxation with a focus on natural healing and rejuvenating practices. Delphi Spa is surrounded by some of Ireland's most inspirational landscape, set within the 300 acres of forest at Delphi Resort.
Focused on the client's health and wellness, Delphi Spa provides a place where you can reflect and reconnect with peace and tranquillity. The entire team at Delphi Spa are passionate, professional and friendly.
All of the products used in Delphi Spa are certified 100% organic and are made to the highest ethical standards that never compromise the environment. Each treatment is designed to balance and harmonise the body and spirit.
All treatments are followed by access to Delphi Spa's beautiful Thermal Suite, where you can take the time to reflect and enjoy the hydrotherapy facilities while taking in the inspirational views – leaving you feeling renewed and rejuvenated.
At the Delphi Spa hotel in Galway, treat yourself or someone else to a body treatment, a massage, a facial, or all three. The Delphi Spa in Connemara is an adults-only destination spa which welcomes both residential and non-residential guests.
Looking for family hotel offers in Galway? Delphi Resort is the perfect family destination with a range of accommodation, free morning kids club throughout the summer and a range of family-friendly activities on offer. Choose between a family room or suite in the resort's 4-star family friendly hotel or dorm-style accommodation in the resort's onsite hostel. Each family package comes with a range of extras such as a full day of adventure activities and a family meal or credit towards food in The 814 Restaurant and Bar.
Book early and save money on extras and accommodation rates for the holiday seasons! Great selection of family hotels breaks and family deals on offer.
School Tours & Youth Groups Connemara – Working with young people over the last 30 years has shown us that getting from A to B – whether you walk, climb, kayak or zip wire – is easier if you work together.
We work with school groups to build new friendships and nurture confidence. To sum it up, coming to Delphi is a true adventure. You'll feel relaxed knowing that your school group is supervised and happy And they'll have fun doing the things that can't be done in a classroom, whether that means climbing hills or crossing rivers.
Our experienced instructors are fully certified and safety accredited so you can be sure that your school tour group are being properly looked after. And your own luxury accommodation isn't too far away so you can keep an eye on how they're doing. Like we said, students have a full activity programme, so when they're not involved in sports and challenges, they're enjoying a full spread of nutritional food at mealtimes. In the evenings, we always have activities to help the students socialise.
FOR YOUR PUPILS TO REALISE THE INSIDE, YOU'VE GOT TO TAKE THEM OUTSIDE.
We love it when students show their sense of adventure. Whether kayaking in Killary Harbour, cycling through the spectacular Delphi Valley, climbing the peaks of Connemara, surfing on the local blue flag beaches, or problem-solving on our Delphi Challenges, we want them to get out there and learn new things. We work in teams to help students become confident leaders and better team players.
Whether you're planning a traditional wedding celebration, a civil ceremony or wedding after-party, Delphi Resort is the perfect location.
Nestled amidst the stunning Delphi Valley, Delphi Resort is set within 300 acres of forest. Surrounded by the majestic Mweelrea and Ben Gorm mountain ranges, Delphi Resort has stood as the most idyllic backdrop to hundreds of love stories and, we hope you'll agree, will make the perfect setting for the beginning of yours.
Dedicated Wedding Co-Ordinator for consultation on all aspects of planning your wedding
A Red Carpet welcome by our Management Team for you and your guests
Champagne Reception on arrival for the Bridal Party
Complimentary Hire of the Wild Atlantic Suite
A sumptuous choice of menus by Executive Chef, Daniel Willimont, catering for special dietary requirements
Children's menu available
Complimentary wedding night accommodation for the wedding couple in the Bridal Suite
Fresh floral displays & personalised menus
Delphi cake stand and cake knife
White linen napkins and white linen tablecloths
Microphone/PA system for speeches and background music
Special overnight accommodation rate for your wedding guests, including 1 hr complimentary use of the Thermal Suite at the award-winning Delphi Spa
1st Anniversary return stay at Delphi Resort for the wedding couple
Discounted midweek & seasonal wedding rates available – ask for details