Children's play centres and activity venues face closure due to massive increases in their insurance premiums
One look at YourDaysOut.ie and it is obvious that there is an extensive variety and quality of family activities available around Ireland.
It's a shame that this summer guide introduction is not based around the long-standing success of these businesses and a host of new-comers.
But, unfortunately it faces a threat that could potentially wipe it out, leaving children with nowhere to play and thousands of providers out of work.
Earlier this year brought widespread panic among owners as they started being quoted huge increase in insurance cover, sometimes as high as 300%.
The increases were blamed on the high level of payouts and the prevalence of bogus claims.
A number of play centres have already closed this year including Kidspace in Rathfarnham and Kiddies Kingdom in Bagenalstown, Co Carlow, while Fort Lucan Adventureland in Dublin permanently removed its trampolines due to the insurance crisis.
A new group made up of the operators of over 90 family activity providers was formed to not only lobby for promised government action but also to try and get reasonable insurance cover as part of a bigger group.
Linda Murray from Huckleberry's Den in Navan, Co Meath, led the successful campaign for Play Activity and Leisure Ireland (PALI) that was able to obtain reduced insurance costs from a company in the UK. However, promised government action is still urgently needed.
"We need to remember that insurance reform still has to happen. We need to tackle the compensation culture where people receive high awards for minor injuries," she said.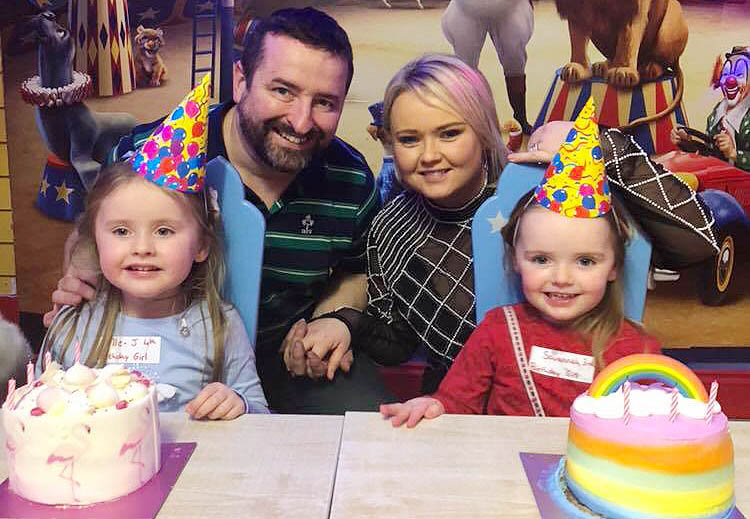 Celebration: Linda with her family
"We also need to question why some premiums double overnight, despite never having a claim against them," Linda added.
So, if you get an opportunity, please challenge your local representative, as in two years time there may not be anywhere left fo bring our children.
But, for now, there are still loads of fun family days out around Ireland.
YourDaysOut aims to be the only resource you need when looking for something to do in Ireland.
Each venue or activity has a page that they can use to keep you up-to-date on what's happening. Business can upgrade to add extra tools to their pages that enable them to send you notifications about promotions, sell event tickets, take birthday party bookings and lots more.
How to use YourDaysOut
Search 'Near Me' to find pages of businesses and events in my local area
Type in a location to research a trip Join up and create your own account
Leave and read reviews
Select Follow on your favourite local pages and get notifications when they create a promotion
Buy tickets that are saved in your profile - no need to print out. You'll never lose a ticket again!
Create your own page for a business, event or local fundraiser
Coming Soon: Follow your friends too, and create your own family activity network.
Benefits of a Premium Page
Upgrade to Premium to publish unlimited content
Build up the people who FOLLOW your page
Send notification about new promos or events
Manage reviews online or offline
Sell tickets to events, create a limited offer deal, take party deposits online or manage free registrations
Use YourDaysOut for all your event management needs including adding tickets, venue capacity, check-in
Check out our new 32 page Summer Guide magazine - everything you need to plan the perfect summer holiday.